School Events and Festivals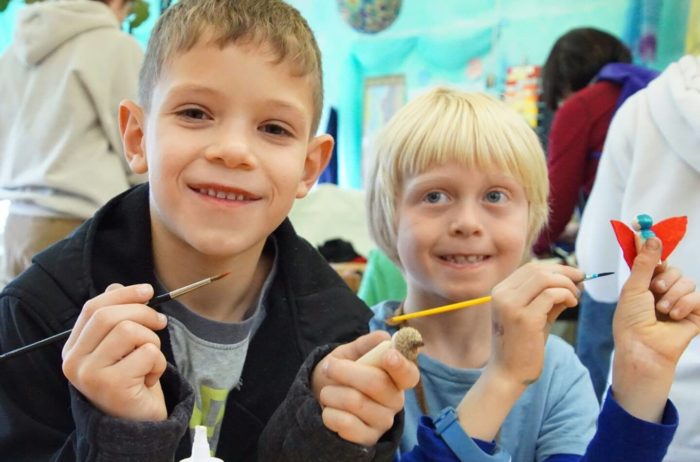 Festivals and programs at Spring Garden celebrate the living rhythms of the year, taken up in each class in different ways, and help provide a common foundation for students and the Spring Garden community to mark time and experience traditions through the year. Our festivals provide imaginations of archetypal truths about human nature, life, and experience, and we strive to bring a global nature to our celebrations.
Dates for all festivals can be located on the yearly school calendar. However, please remember that all dates are subject to change, and you should watch the Tuesday Note and Weekly Announcements to stay apprised of any changes to our schedule.
The Rose Ceremony – This all-school assembly welcomes students from kindergarten to Grade One. During the ceremony, the new Grade One students "cross over" a bridge from their parents to join their class, where they are met at the other end of the bridge by a student in Grade Eight with a rose as a symbol of welcome. This Grade Eight student will be the Grade One student's "buddy" throughout the school year and will assist the Grade One student during activities such as lunch, Michaelmas kite-flying, and ice skating.
Michaelmas – Each September, the school celebrates Michaelmas. In the Celtic tradition, Archangel Michael is celebrated for inspiring strength and courage. In his battle against an evil dragon, Archangel Michael represents the unconquered hero fighting against the powers of darkness. The dragon represents the destructive forces that lead us away from goodness. The model of Archangel Michael endows our hearts with courage and feeds the flame of enthusiasm. In the weeks preceding the festival, students in all classes hear stories and sing songs about the brave knight who overcame the dragon with his sword of light, and these stories are also represented through students' artwork. Much preparation leads to an evening program in which all students from all grades sing and perform a traditional Michaelmas play.
Children's Festival – This is a highly anticipated annual event, open to the public, where children and their families come together to enjoy puppetry, make-and-take crafts, live entertainment, an artisan's market with vendors from around Akron, and delicious food from the Spring Garden Cafe.
Spiral of Light – This reverent, candle-lit ceremony takes place during the school day. Students enter a dark room, laid with fresh pine boughs in a spiral pathway. At the center a large, lit candle is placed on a table. Accompanied by soft singing and the ringing of bells, each student walks slowly and thoughtfully to the center of the spiral, lights their candle, then walks back outward, placing their lit candle somewhere along the spiral path. With each student, the light grows brighter, illuminating the room and reminding us of the eternal light that is within each of us and within all of mankind.
May Day Festival – During the first week of May, the fullness of spring and the impending arrival of summer are celebrated with flowers, music, dancing, and singing. Early Childhood students dance around a Maypole early in the morning, while students in the grades wait until after Main Lesson, when an all-grades procession is led to the Sportsman's Club adjacent to our property. There, students participate in a scavenger hunt, with teams made up of students from each grade. Following the scavenger hunt, students in the lower grades weave ribbons around Maypoles while students in the upper grades play madrigals on their recorders. When the dancing is complete, students gather to enjoy lunch and share lemon cupcakes.
Graduation Ceremony – Each graduating class works together to develop its own unique graduation ceremony. Held the evening preceding the last day of school, this is an important event for the graduating Grade Eight students, who are given a special send–off by the entire community. This emotional, heartfelt evening includes the Grade One students giving their Grade Eight Buddies a rose, bringing the year to full circle, and the passing of the torch to the Grade Seven students who
will enter Grade Eight the next year.
Assemblies – Assemblies are held periodically throughout the school year on Friday mornings at 9:00 a.m. (see the current school calendar for assembly dates). Assemblies are an opportunity for students in Grades Two through Eight to share some of the songs and activities they have been working on as a class. Parents are welcome and are encouraged to attend, as these assemblies offer insight into the depth of experience children receive through Waldorf education.
Class Plays – Drama is part of Waldorf education from Grade One, and children in all grades prepare for and perform a play each year. Students in the early grades perform in their classrooms, generally for parents only. In later grades, student productions are staged in the gym and are open to ever-wider audiences. Finally, in Grade Eight, students perform a full production of a Shakespeare play as the culmination of their drama experience at Spring Garden.
Musical Programs – Each year, two seasonal evening programs are presented in which students in Grades Three through Eight perform both choral and orchestral pieces they have been learning. Programs are wonderful opportunities for parents, families, and friends to see how music is woven into the Spring Garden curriculum.