Early Childhood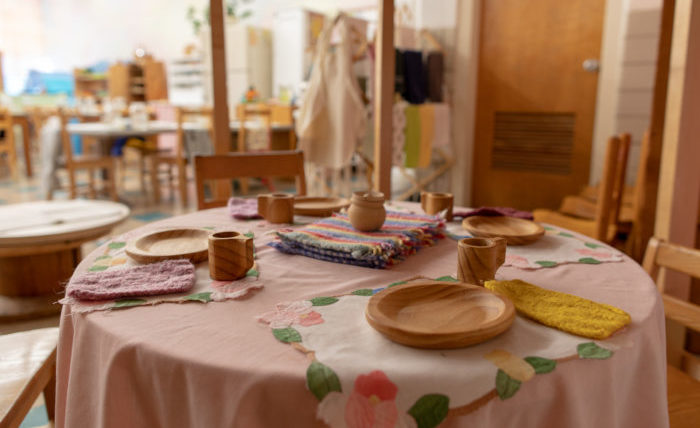 Our Early Childhood Program is an extension of the family experience; a step between home and formal schooling.
We offer four classrooms in our program:
The Bluebell Garden, the Dahlia Garden, and the Lilac Garden – These three classrooms serve children ages three through kindergarten. For the young children, the program serves as an extension of home as they are gently led through a warm and nurturing day that includes plenty of outdoor time, free play and modeling of adult behavior. The older preschool and kindergarten children are able to both learn and teach one another in a structured and secure, unhurried day.
The Lavender Garden – In an effort to serve all of our families needs during the pandemic, it became evident that a distance learning option would be necessary. This distance learning class serves children ages three through kindergarten and offers families an early childhood experience in their home for an hour each day with supportive curriculum to be used at the families convenience such as stories and songs.
For the children who are attending school in person, the day's activities unfold in an unhurried way with each day following the same rhythm, giving the child a sense of security and consistency. The program is based on the understanding that young children learn primarily through imitation and play. This program is held with a significant amount of time being spent outdoors in all seasons with exceptions made only for very inclement weather.
Our teachers focus on fostering the small child's imagination and creativity through storytelling, music, outdoor play and artistic activities. Early academic foundations are formed through these activities. As just a few examples, beeswax modeling cultivates small motor skills, puppetry helps children develop memory and language acuity, and nature walks increase large motor abilities and scientific curiosity. The sharing of practical activities such as snack preparation and clean up starts the child on the path toward personal responsibility and respect for others.
Academic activities are not found in a Waldorf Kindergarten. The emphasis is on developing skills through experience. Here are the experiences and a brief description of their significance.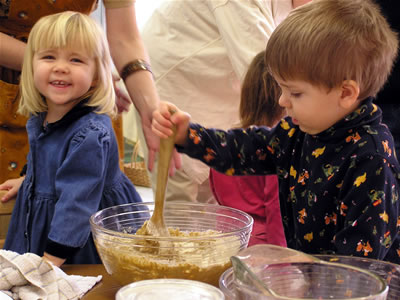 Creative Play Time:
An atmosphere of work permeates the room or outdoor space. Play is important work for children. While the teacher prepares snack, sews a doll, rakes leaves, or gardens, the children play and imagine with a wide variety of natural toys and materials. Learning: Development of the imagination, social interaction with peers, problem solving, and carrying tasks to completion are just some skills developed during creative play.
Circle / Story Time:
The class comes together to sing songs, recite versus or listen to a teacher told story. Learning: Repeating and remembering verses builds memory. The ability to sit and listen to an adult for a sustained period is developed at this time as well. The story told by the teacher also exposes children to the beauty of language which supports literacy skills builds the person-to-person relationship between teacher and child.
Artistic Activity:
Wet-on wet water coloring, woodworking, beeswax modeling, crayon work and sewing/finger knitting are done as a group activity, although each child is absorbed in their own work. Learning: These activities encourage the child's natural sense of beauty and color. These artistic techniques will be built on in further grades. They also develop motor / visual learning skills and the ability to focus on a task for a lengthened time.
Snack Time:
A group activity where children prepare snack together and eat together. The children also clean up after themselves and tidy the space. Learning: This time is a good transition example of home to school life. It also teaches social interaction, how to follow directions, the science of cooking and cleaning and personal responsibility.
Outdoor Play:
Children are free now to run, use imaginations, and experience the outdoor world in all seasons. Waldorf outdoor time happens daily in all but the most inclement weather. Learning: Large motor skills, imagination and creativity, social skills, and natural science. It is hard to think of a skill not fostered during outdoor free play.