Grades 5 – 8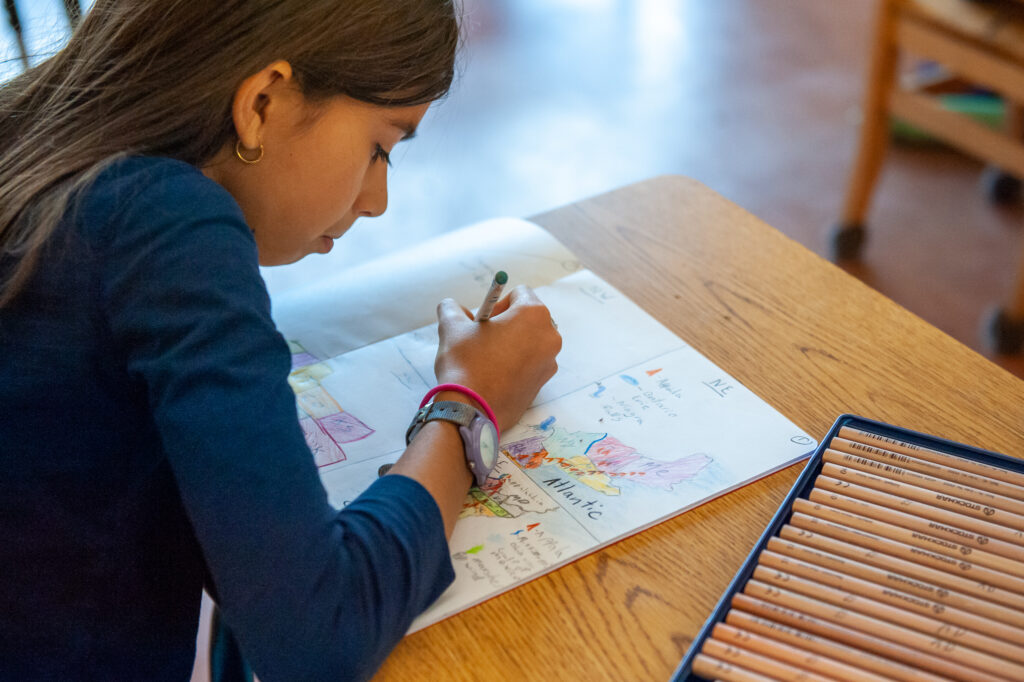 Exceptional curriculum provides our older students with a well-rounded, classical education and a strong foundation for creative, conceptual and abstract thinking. Experiential learning is still key in these years as we continue to integrate the arts, humanities and sciences to nurture the growing strengths of each child.
We set high standards for ourselves and for our students, who learn to think critically, create, and work hard. A de-emphasis on test results and a respect for multiple types of intelligence fosters intrinsic motivation, respect and resilience in our students as they prepare for their futures.
While we engage our students rigorously, it is done within a warm and respectful community which provides a safe place for the transformative experience of beginning adolescence. Our students develop abilities to think creatively, feel empathically and work actively which instills them with the confidence needed to meet the world.
In these grades the practical and theoretical come together as our responsible young adults work with each other, their teachers and their school. The European Renaissance is an appropriate topic for this age of great exploration and discovery as is the fall of Rome and recent U.S. history. Writing and mathematics turn practical in the curriculum of these later years as reports and compositions are written and presented on main lesson topics and special subjects. It is now time for competitive sports, orchestral music, and intensive woodworking.
Our middle school students are also encouraged to be leaders, collaborators and critical thinkers and are given many opportunities to help younger students, create and run essential programs for the school and community organizations.
Graduates of Spring Garden Waldorf Middle School go on to attend local public and private high schools throughout Northeast Ohio and surveys of alumni report above average grades for high school's requirements in math, science and Spanish.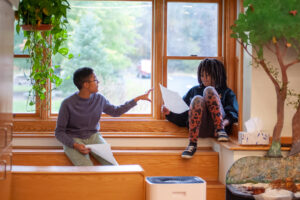 The Main Lesson begins with subject material that meets the child's developmental needs in an intriguing manner. For example, our Seventh Graders are immersed in the world of the Renaissance. This time in a student's life is a great awakening; just as the era was a great awakening for Western civilization. Students will spend their mornings inspired by the likes of Joan of Arc, Leonardo DaVinci, Dante and Newton as they learn Chemistry, Physiology, Linear Equations, Pythagorean Theorem, Perspective Drawing and more.
Sciences in all grades are taught using the Socratic method — calling upon the students to observe, ponder, discuss, and then draw conclusions – all before the law or formula is presented. Music permeates and harmonizes life in school through choral music, solfege and conscientious study of orchestral instruments. Foreign language and the practical arts like wood work and hand work continue as projects become more complex and challenging.
By the end of Grade 8, the culmination of their years at Spring Garden Waldorf School will grant students an inherent curiosity and love of learning. By offering an inspirational education, we help our children grow into well-rounded, engaged and interested adults.
"Our highest endeavor must be to develop free human beings who are able of themselves to impart purpose and direction to their lives."