Sweet Peas Playgroup
A Cargiver and Child Class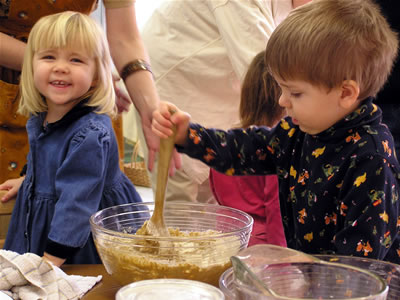 Our Sweet Peas Playgroup is a two-hour Caregiver and Child class offered once a week here at Spring Garden Waldorf School. The program offers an enriching, Waldorf early childhood experience for children ages 18 months to 3.5 years. Adult caregivers remain with their children during class time. The class is taught by Kathy Miller — an experienced Waldorf educator who has taught at Spring Garden for many years.
This playgroup will be offered from 9-11am, once a week, throughout the year. The enrollment fee is $275 per student for each 7 week session. We are offering three seasonal sessions:
Fall: Currently In Session. Registration Closed.

Winter: Fridays – Jan. 20 through March 3.

Spring: Mondays – April 10 through May 22.
The morning will flow gently through free, unstructured play, circle time, snack and story time.  The playgroup will allow parents and guardians an opportunity to learn more about Waldorf education and to see their children blossom over seven weeks through the rhythm and gentle guidance provided by Ms. Miller.
Sign Up
Please sign up by clicking the button below and reach out to our Admissions Director, Rocky Lewis at [email protected] with any questions. On the sign up form, there is an option to choose one, two or three sessions. Classes fill up quickly. Your child's space will not be held for your registered session until we receive your registration fee. Thank you!

Submit Registration Fee
Please submit the Registration Fee. Your space will not be secured in the class until you have submitted this fee.