Parent Child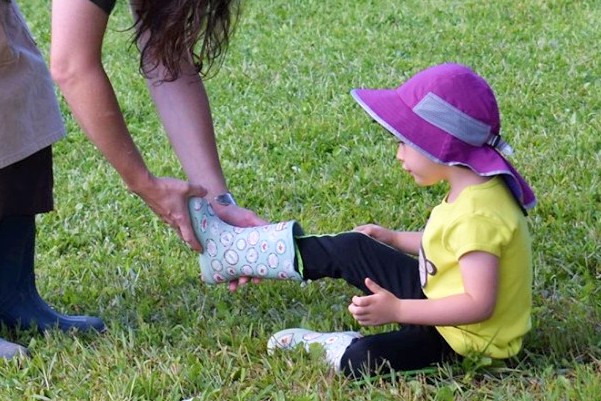 Parents and children (ages 18 months to 3 years old) join together in a class that focuses on a connection with nature and imitates the rhythms and atmosphere of a Waldorf early childhood class experience. Summer and fall classes are held outdoors. Winter and spring classes have time outdoors every class along with time indoors as well. Classes are taught by Marina Ristev Ristev, an experienced Waldorf Early Childhood teacher. Children are guided through the morning by the gently rhythm of circle time, nature walk, creative play, snack, and story time. Young children learn through imitation. With this in mind, we will ask that parents participate in each of these activities or help with daily tasks depending on the lead given by the teacher.
The natural world and seasonal festivals are reflected during circle time. This provides the opportunity to learn through music and rhyme. Games and movement activities engage both large and fine motor coordination. Stories and puppet plays nourish the child's imagination and provide rich material for creative play. Time in nature throughout the seasons allow for awe, wonder, and discovery of our world.
During class, we will offer information and give parents an opportunity to discuss child development, parenting questions, and Waldorf education with an experienced teacher. Sessions are offered year round.
Classes are offered once weekly during the Fall/Winter and Winter/Spring for 12 weeks and during late Spring for 6 weeks on Mondays and Tuesdays at Spring Garden Waldorf School, from 9:00 a.m. – 11:00 a.m. Cost per session is $360/parent and child (12 week session) and $180 (6 week session) and $100 for each additional sibling. There is a 10% discount if you register for the full year. For information about monthly payments plans, email Amy Hecky at Admissions@sgws.org.
Parent and Child Classes are currently suspended due to COVID-19. Please email Amy Hecky, Director of Admissions at admissions@sgws.org if you would like to be added to a list to be notified when classes become available.