Magic Meadow Summer Camp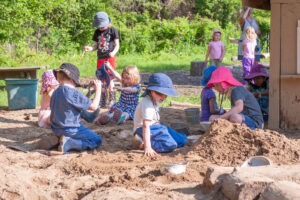 Our Early Childhood Summer Camp embraces the lazy fun days of summer — friends, fun and frolicking on our 12-acre campus! Two of our Early Childhood teachers will guide campers through an enriching and relaxing day including daily movement circle, nature crafts, activities, stories and play.  The daily rhythm will closely follow the rhythm of our regular school day with a more relaxed summer feel. This camp is for children from the age of 3 through incoming kindergarten age (5 by June 1) and toilet trained.  There will be 12 campers and 2 teachers.  If you have any questions, please feel welcome to contact Amy Hecky, Director of Admissions at [email protected] or by calling 330-666-0574.  Scroll down to the bottom of the page to register:
When:  July 18-22
Time:  9am-3pm
Cost: $250/camper
Submit Payment:
Register to attend by filling out the form located at the bottom of this page.  Please submit one registration form per camper.
Orchestra String Fling and Gardening Camp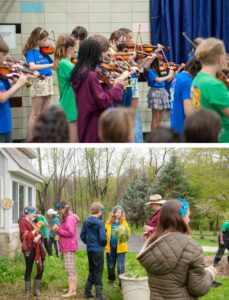 This camp is being offered the week of July 11th from 9 a.m.-3 p.m. for students entering fifth and sixth grade.
Let your child shine through a fun Experience of string orchestra and gardening this summer!  Children will explore the basics of rhythm and sound through fiddle pieces, world music, and cinema, specifically Harry Potter!  Afternoons will be spent in the garden learning about plants and animals.  Other activities throughout the day include crafts and outdoor games.  The week will conclude with an Orchestra concert on Friday.  This camp is designed for beginning and early intermediate string players who have been playing the violin for at least two years.
Early bird registration is $350 until May 31st.  After May 31st, cost is $365.  To register for camp, please submit the fee using the link below. Scroll down to the bottom of the page to register.
Advanced Chamber Music and Orchestra Camp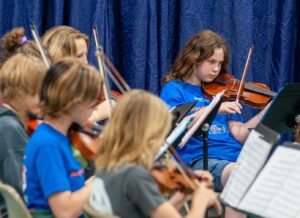 This camp is for student entering 7th, 8th, and 9th grade and will be offered the week of July 11 from 9 a.m.-3 p.m.  Join conductors Jenny Cluggish and Edward Grimes for a week of orchestral fun!  Students will learn about jazz, cinema, and world music in a fun musical environment while improving their sight reading and playing skills.  Each day will include both orchestra rehearsal and break out chamber group sessions where students will work together in trios and quartets to prepare a piece for a final concert on Friday.  The week will include music coaching, games and activities, and related art projects.  Advanced Chamber Camp is designed for intermediate to advanced string plyers who have been playing a string instrument for at least three years and are fluent in note reading. Students who do not attend Spring Garden are welcome but require an audition to be placed in a chamber group.
Early bird cost is $350 until May 31st.  After May 31st, the cost is $365.  To register, please submit the fee and scroll down to the bottom of the page to register: